The alphatech® Dental Implant System consists of the two lines implant named Tube-Line and Slime-Line® and is made from pure titanium grade 4 or 5. The Tube-Line implants are multi-indicative, conical-cylindrical implants with an input in the form of a hexagon socket. The delicate, extremely sharply defined, self-tapping thread is designed across the entire length of the implant. This provides for an almost atraumatic insertion of the implants and enables a very good primary stability. The tube in tube design with extremely accurate fit and the lowest possible tolerance enables optimal distribution of power, form fitting and stability.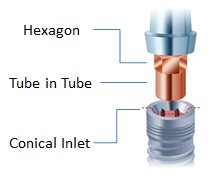 In 2011, the alphatech® system was supplemented with the angulation concept. With the angulation concept, you can make a firmly fixed supply on minimum of 4 implants (lower jaw) and at least 6 implants (upper jaw). This is possible through high angled easyfixbase® abutments.
Based on the latest trends in surface technology and based on the latest clinical data, the tube line implants are offered with the surface coatings named DUOTex® and BONITex®. The DUOTex® surface is a subtractive surface. HA blasting creates a macro texture which is optimised by the following double acid etching process to generate an optimal roughness. The BONITex® process, developed by DOT, creates a HA-blasted, double acid etched surface with a very thin calcium phosphate layer. Therefore the BONITex® coating is a combination of optimal roughness characteristics and a very thin, quickly resorbable CaP layer comprises all features to allow for a high primary stability and rapid bone ongrowth. Both parameters result in a functional coating which is able to reduce healing time and furthermore give the opportunity for early implant loading. For more information about coatings, visit www.dot-coating.de.
The Slim-Line® implants are reduced-diameter implants and are designed for single-tooth replacement and anterior bridges in the mandible and the maxillary lateral. The Slim-Line® implant is a one-piece biokortikal anchored implant screws and has a self-tapping threaded.
Tube-Line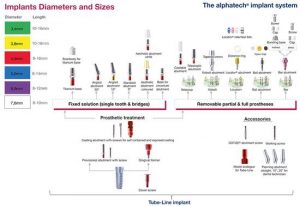 Tool-Line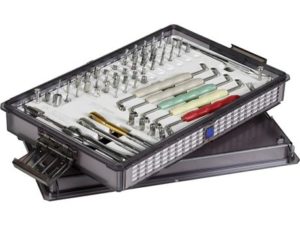 Slim-Line®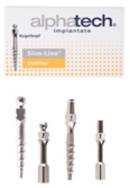 One-piece Dental Implant
Three Diameters 3,0 – 3,6 – 4,2 mm
Three Lengths 10 – 15 – 20 mm
DUOTex® Surfaces with a high macro roughness
Angulationskonzept easyfixbase®

Indication:
Toothless jaw
preferably transgingival guided implant surgery
optimal exploitation of existing bone, bypassing augmentative procedures with reduced number of implants